Glacier National Park
This was our second visit to beautiful Glacier National Park. Our first visit was in 1996. There is one road that goes east-west through the park, and none through the park for north-south. The one road is named Going To The Sun Highway. The road is narrow, two way, and has one sharp switchback that makes it off-limits for vehicles larger than about 20 feet, and no trailers allowed. Much of the highway has been cut into the side of a very steep mountainside, with one part even cantilevered out from a bluff wall. The views are fantastic from much of the highway, but the turn-offs are few, giving great problems if a driver wants to admire the scenery. I drove the highway in 1996, and ever since Betty has wanted a return trip where I could enjoy the views with someone else driving.
| | |
| --- | --- |
| | We took a bus tour, Sun Tours, operated by the Blackfoot Indians who have a reservation on the East side of the park. The bus driver/guide was young, but very knowledgeable about the history and sights of the park. The bus was also air conditioned. The guide reported that the mountain peak at center was the one in Paramount Studios logo. |
| | |
| --- | --- |
| Several places along the road have waterfalls that disappear into a drain that passes under the road. The water source is melting snow from up higher. | |
| | |
| --- | --- |
| | Johnson Glacier is one of the few glaciers that can be seen from the highway in the park. There are actually only a few glaciers left in the park. |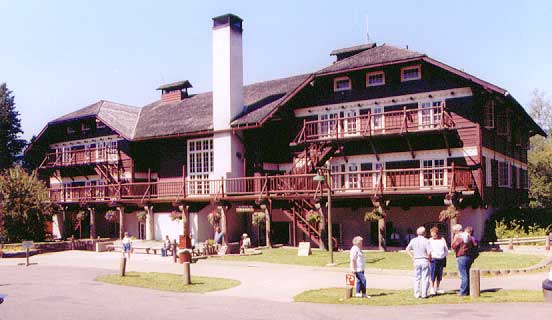 The lodge on McDonald Lake has fine dining. Our bus tour started at the East entrance to the park and traveled west to McDonald Lake, and then back to the East entrance.
| | |
| --- | --- |
| Just a view across a valley with the road in the foreground. | |
| | |
| --- | --- |
| | Not far from Logan Pass, the highest point on the road, there was a snow tunnel beside the road. The sign says "Danger, Keep Out", but several people walked several yards back into the tunnel. Water from uphill cut the tunnel |
| | |
| --- | --- |
| Most of the high valleys, such as the one to the right of this photo, have snow that lasts most of the summer. That is more snow beside the road. | |
| | |
| --- | --- |
| | One view from the Logan Pass Visitor Center. |
| | |
| --- | --- |
| Mountain goats are a prime attraction for Glacier National Park. They are commonly seen near the road just west of Logan Pass. | |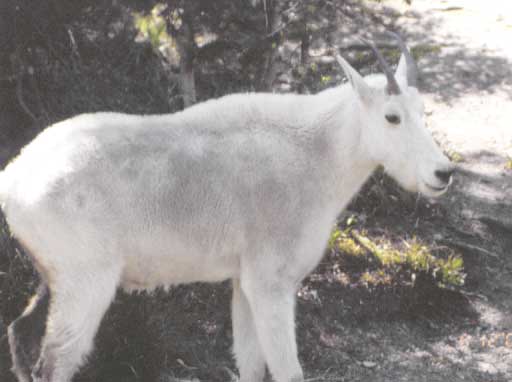 It is sometimes possible to get very close to a young goat. This was obtained from a viewing platform just west of Logan Pass.