Vancouver Island

After picking up up our van from the Vancouver Airport Comfort Inn, we drove to the Vancouver Island Ferry. We drove on board after a 45 minute wait for the 1.5 hour trip to Vancouver Island. The ferry does not land in Victoria, but at a port several miles North. We checked into a Super 8 Motel in Saanichton, just north of Victoria, checked e-mail, and did laundry. The weather had cleared to a bright, sunny day about the time we left the Sun Princess.
We toured the world famous Butchart Gardens on Tuesday, 4 September. We arrived about 9:15 and almost had the place to ourselves. By noon, the place was packed.


Butchart Gardens is 50 acres of blooming plants and trees. We took 8 rolls of film. Go see it.
The next day we first drove to Port Renfrew. The drive and town are supposed to be scenic, but, compared to other places, it was a disappointment. The drive would have been scenic if the ocean had not been hid behind private property and trees. Over a distance of about 50 miles, there was only about three places where we could pull off the road and enjoy the view.

Next stop was the town of Chemainus. It is justifiably famous for its many murals. Many buildings have large murals that provide a partial history of the area.
We had planned to catch the 10:30 AM ferry to Port Angeles, Washington, on Thursday, but it was already full at 9:30 when we arrived. We had to wait for the 3 PM ferry.

Since we had about 5 hours to wait, we took a bus tour of Victoria. The Port Angeles ferry terminal is near the center of Victoria, in Victoria Harbor. This picture is of the Empress Hotel, with some of the tour busses in front. The busses are double decked, with some open on the top. We chose downstairs and air conditioning on a Gray Line Bus.

The bus tour was very good. The driver seemed to know about every thing in Victoria. The bus tour made several stops. One at the half-way point at a waterfront restaurant where we could use the washroom and have a quick lunch. Sea lions hang around the restaurant looking for a handout as shown here.

The Victoria Harbor area has several beautiful buildings and landscapes in easy walking distance. This piper was on a corner across from the House of Parliament. That is a statue of Queen Victoria behind him.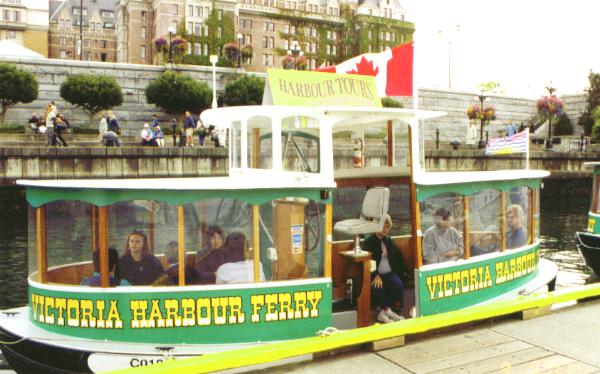 Following the bus tour, we took a harbor tour on this little boat. These are both tour boats and water taxis. There were several in the harbor at all times. Their movement reminded me of water bugs. There are two different harbor tours available. We took the "Gorge" tour that was 50 minutes long. There was one place on the tour where we could have debarked for a visit to Point Ellice House for "High Tea", and then been picked up by a later boat. Several other stops were available, but no one was interested in them. Once again, the tour driver knew about everything.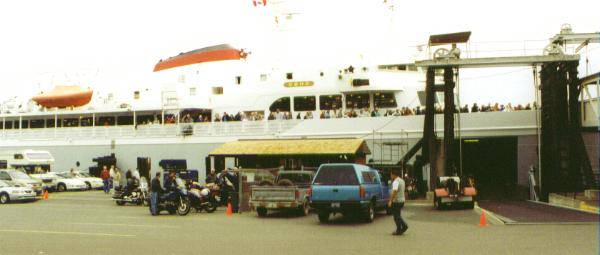 Following the harbor tour, we returned to the van to await ferry boarding. While waiting in line, a US customs agent came along and we cleared US customs before we got on the ferry. Since the problems of 11 September, procedures may have changed. This ferry is large, with a side entrance used at Victoria, and a bow entrance used at Port Angeles. Cars, RV's, 18 wheelers, and busses all mixed together on the ferry. Upon boarding, you must leave your vehicle and stay on the passenger deck until docking. If I remember correctly, the trip was about two hours and cost $50 US, cash only, for passenger vehicle and occupants. This was probably the only significant expense where we did not use a credit card for our entire seven week trip.
Return to Lewie's Home Page.
Return to Our Scenic Tour of 2001.
Return to Our Cruise.
Jump ahead to Mount St. Helens.