Devils Tower national Monument
We visited Devils Tower on the morning of 5 August 1998. As with our visits to Badlands National Park and to Wall, SD, this was not a good time to visit because of the crowded conditions due to the Sturgis, SD, Motorcycle Races and Rally. The Devils Tower National Monument is located in the NE corner of Wyoming a few miles North of Interstate 90.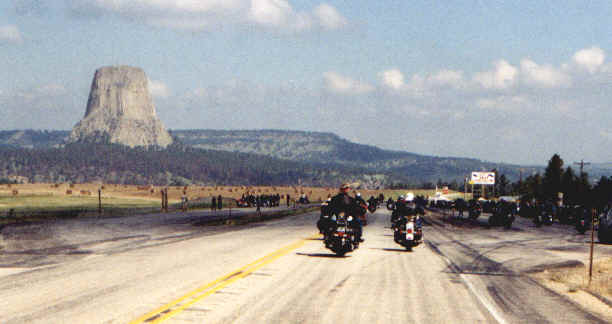 This is view through our windshield on the road to Devils Tower. This was early morning, a few hours before there was to be a motorcycle caravan to Devil's Tower. Our trip to the tower was with a few thousand cycles. As we left in the early afternoon, there were tens of thousands of cycles in the area.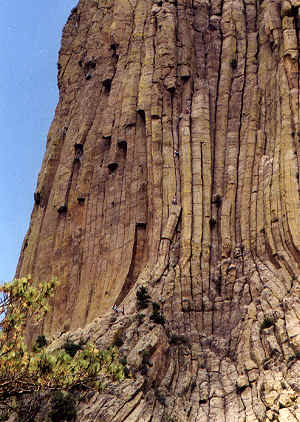 Pictures of the tower alone don't provide an indication of the size of the tower. In the view to the right above, there are 4 climbers, one to the left of the pine tree at center, and three more scaling a region in the mid portion of the picture. The three lower climbers are shown magnified below left. Two other climbers are scaling a wider groove are in the right photo.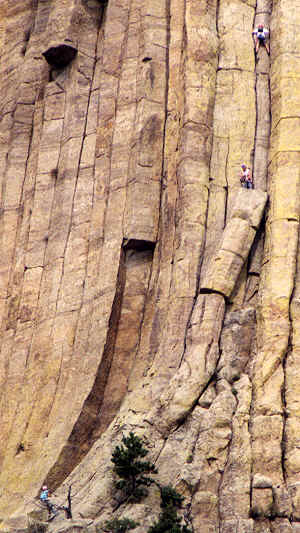 Only a few people visit the tower to climb. Most come to see the structure itself, and end up watching the climbers. There is an easy trail to walk all the way around the tower base.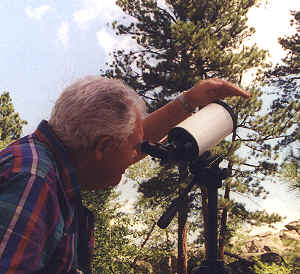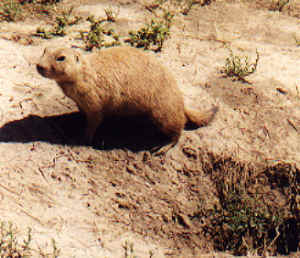 Climber watching requires binoculars or a spotting scope. My spotting scope doubles as a 500mm camera lens. Along the road a short distance inside the entrance gate, there is a large prairie dog town. The dogs are used to people, and you can get close enough for good pictures without difficulty.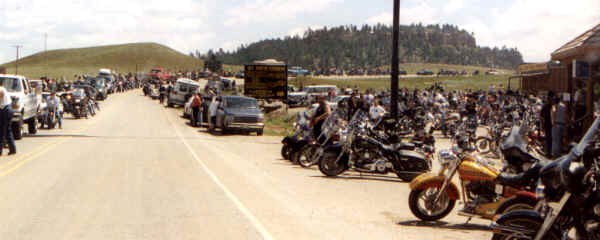 Did I mention that there were a lot of motorcyclists as we left the tower? Those to the left are in line to enter. Those to the right were visiting one of several establishments just outside the park gate.
Return to Lewie's Home Page.