Lewie's Travel Web
How We Travel

An Astro Van is our traveling vehicle of choice. This was how it looked when we arrived home after the 1997 trip to Alaska. The small ladder was necessary to access the camping equipment in the car-top carrier.

Hand held games of solitaire and Wheel-of Fortune provided a pass-time for Betty during travel areas of little scenic interest.

A laptop computer on a stand between the front seats, a GPS receiver on the dash, and Delorme Map-N-Go software provided a real-time indication of our location.

The M-N-G software also is used in trip planning to map an intended route that is displayed continuously as we drive. Near-by attractions, motels, and restaurants are indicated along the mapped route.

Delorme Street Atlas was used when needed to locate addresses not on the M-N-G roads. However, Street Atlas does not include Canada. We also have Microsoft Streets and Trips that does include include Canada, but it is not as useful for planning or GPS tracking.

The laptop was used with a spread sheet program to keep track of expenses and vehicle mileage. Every night, a summary of the days activity was entered into a word processor trip diary. It also provided a link to family and friends with e-mail.
We spend our nights in motels that we find along the way, with tent camping in parks where we plan to stay for a few days. We have found, with a couple of exceptions, that motel rooms are readily available without reservations if we stop before 6 PM, with a better choice available before 5 PM. The exceptions are those motels near popular parks may all be full with reservations early in the day. With these locations, rooms can sometimes be found just after 6 PM when non-guaranteed reservations can be cancelled. We have also had great difficulty finding suitable accommodations if we drive until 6 PM.
Our tent camping is a little more comfortable than most. We have used three tents, all large for two people by most standards. The largest was a 12 by 16 foot cabin tent, below, divided into two rooms, each 8 by 12 feet. We have changed to an easier to erect dome tent that is about 10 by 18.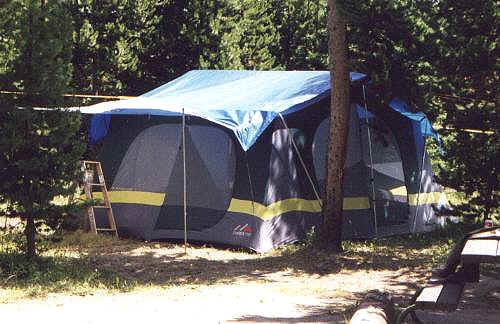 This was how it looked in Yellowstone in August of 1998, our second visit. It has doors on three sides, and windows on all sides. We do make campsite reservations for Yellowstone.
A screen room is used as a cook tent, but we really do little cooking except for breakfast. A cast iron grill on a propane stove is used for pancakes or for my favorite, "egg in a hole in toast." All food and cooking equipment is carried in plastic boxes that are easily moved into the vehicle, or into bear-proof lockers if available.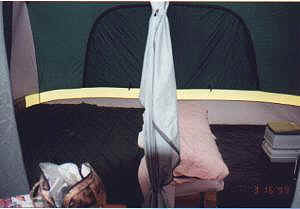 One room is our bedroom. It contains a raised platform with foam pads that make a comfortable queen size bed, a porta-potty, and our suitcases. A TV stand has a clock and incidentals. A large thermometer is attached to the divider wall so we can see the temperature before we arise. The second room is our sitting and dressing room. It contains a table, lamp, and two plastic tubs that we use for excess clothes, coats, bed linens, etc. The two photos above show the two rooms. The light cloth in the center of both pictures is the divider door that can be zipped closed if desired.
The platform bed comes apart for travel, but also fits in the back of the Astro, assembled so we can sleep in the vehicle if necessary. However, we normally don't do this since there is not sufficient headroom for easy movement in and out of the bed. The top of the bed platform is hinged so that it can be used for storage when assembled.