Wall, South Dakota
Wall, South Dakota, home of the world famous Wall Drug Store, which became famous for
advertising Free Ice Water, is at the intersection of SD 240, from Badlands National Park, and
Interstate 90. The drug store was originally a mom and pop type place. It is now a major
industry. While it is still a working drug store, it is more a gift shop than anything else. It is
actually a number of gift shops, all connected together, that occupy at least a solid city block.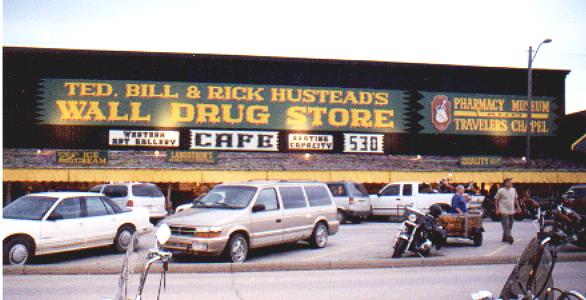 Actually, Wall Drug Store is world famous because it advertises world wide, with signs in
over 100 countries. Many of the signs advertise that it is world famous with signs all over the
world. In other words, they advertise world wide that they advertise world wide.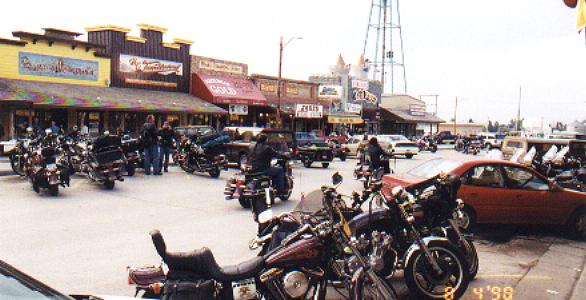 Our visit to Wall was 4 August 1998, the same week as the Sturgis, SD, Motorcycle Races and Rally.
This was the view from the front of the drug store. They have mid-street parking, and a parking lot for cars and campers about a block away. In addition to the drug store, there are a number of other stores that all cater to the tourist, with all on the one street except for motels and restraurants.
We arrived in Wall about 6 PM and started looking for a place to spend the night. There was only one room in the whole town, and we took it. Rapid City is about 50 miles west of Wall, and Sturgis is another 30 miles to the west along Interstate 90, the direction we planned to go on the 5th. We figured if Wall was full of cyclists, Rapid City was likely to be overloaded, and we did find the one room, even if it was an over priced, stinking smoking room.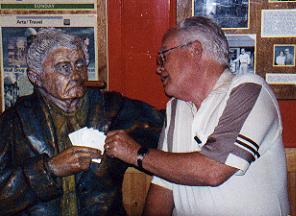 In the drug store after we ate, I checked out one hand of a poker game, and then grabbed a bison by the horns.
| | |
| --- | --- |
| | After a short bucking bronc ride, we completed our visit to the drug store by buying some fine souveniers for our grandkids. The selection was large, and the prices were reasonable. |
Return to Lewie's Home Page.