Badlands National Park
We visited Badlands National Park on the afternoon of 4 August 1998. Our visit was limited to driving through, with stops for viewing and pictures at the designated viewing areas along the road. With this short visit, we think we saw the best that the park has to offer. While there is a lot of the park we did not see, it is likely more of the same as that we did see.
We do not recommend visiting the park this week of the year because of its nearness to Sturgis, SD. This first week of August is the time of the Sturgis Motorcycle Races and Rally. The bikers were a problem only because of their number. We were lucky because August fourth was not a scheduled motorcycle caravan day to Badlands as it was later in the week. For more about the motorcycles, see my descriptions for Wall, SD, and Devils Tower National Monument.

On South Dakota highway 240 just outside the NE entrance to Badlands Park is a commercial enterprise, Prairie Homestead. This is an interesting place for a short tour to see the conditions of the 1800's here. There are chickens, prairie dogs, barns, dugouts, farm implements, and the old dwelling to see.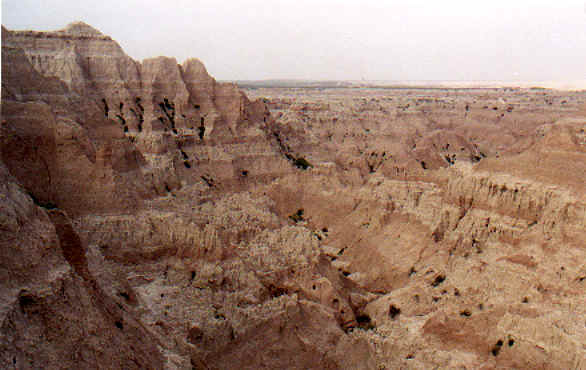 An area is designated as "badlands" if it is a severely eroded region. Badlands National Park has a region known as "The Wall," with a part of it pictured here, that separates the upper prairie from a lower prairie. This wall is still moving to the north as the erosion continues. There are only a few places where moving between the two prairies is practical over a distance of 60 miles. The loop road we took largely follows the upper region of the wall, with a couple of excursions between the two areas.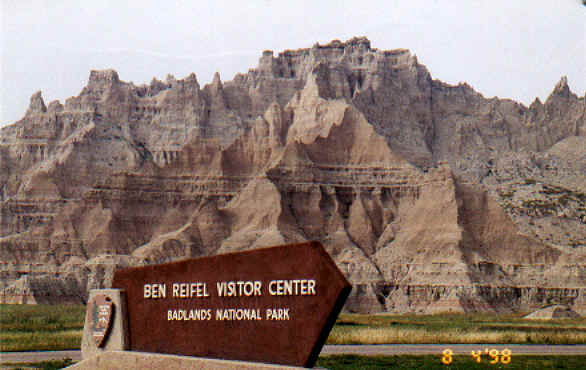 The visitor center is located on the lower prairie just south of a section of the wall shown here.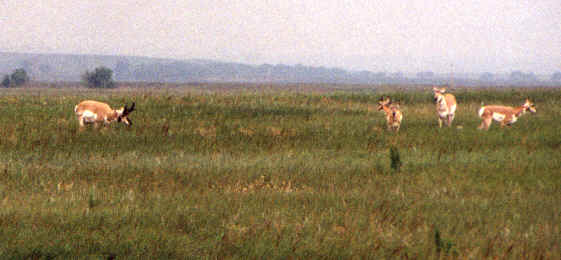 Pronghorn antelope was the only large animal we saw in the park. These were by the road as we left to visit Wall, SD.
Back to Lewie's Home Page.