Great Basin National Park
Our next stop was in Baker, NV, at the Great Basin National Park. Baker is just south of US Highway 6 near the border with Utah. This park got its name from its location. There is a large area that has no surface drainage of rain water. In this desert country, water is scarce, with a few streams that flow when snow melts in the high mountains. The streams all end in lakes where the water eventually evaporates.

The aspen were a bright yellow in the high country in the park. Not many people see these colorful trees. This park has the lowest number of visitors of all the US national parks. The highways in the area are not pathways to reach any major city. Visitors to Great Basin NP are there because they want to visit the park, not because they just stopped by while in the area.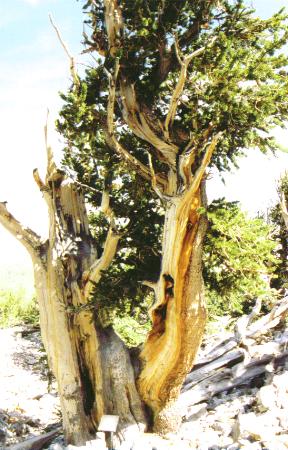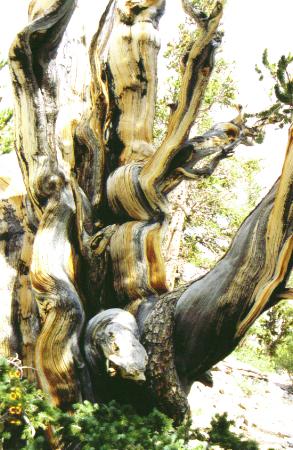 Great Basin NP has two unique attractions to draw visitors. One is that it is home to some of the oldest living things on earth. These are Bristlecone Pine trees. The trees pictured here are close to 3000 years old, or older, and still alive. These trees are relatively small, probably less than 20 feet tall. These trees are located above 10,000 feet altitude, and are reached by an easy trail a little over a mile long from a paved parking area that also has a toilet. The trees look almost dead, and they probably are, but they take a very long time to completely die. The tree on the right has just a small strip of bark that runs from the root area and up the right limb. A few green needles show that this tree is still alive, but most of it has no bark, and will grow no more.
I could not find any part of this tree still alive, but it is beautiful, anyway. These trees are reached by a trail from a paved parking area with rest rooms. The trail is easy walking, but is largely above 10,000 foot altitude. That makes it difficult for lowlanders like me to breath.

These trees are the reason I visited the park. Where else can you see some of God's creations that started life a 1000 years before Jesus Christ was born.

I understand that there are more Bristlecone Pines in California that are a little older than these now in Great Basin NP, but I was told they are as not easily reached as those here. However, getting to this park is not convenient for most people.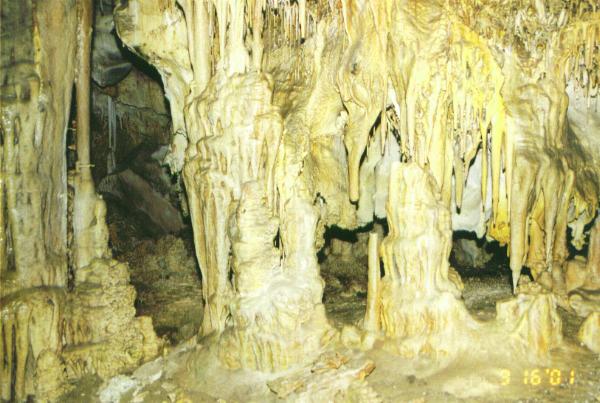 Lehman Caves is the second reason to visit the Great Basin NP.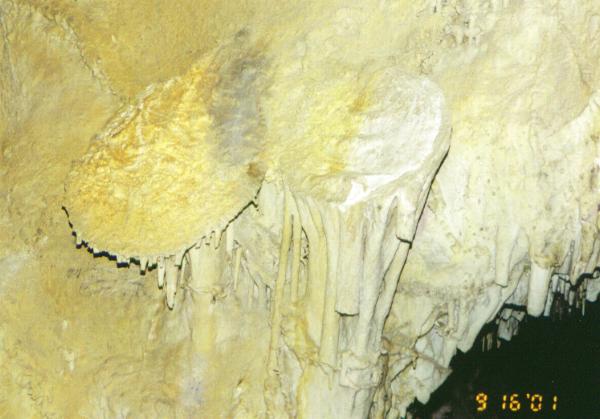 This cave has a large number of very attractive formations. It probably has more thin columns than most caves, and it has shield formations, with two shown here. Shield formations are formed by water slowly flowing from a horizontal crack. Shields are almost flat on top, and extend downward at an angle, most about 45 degrees. Some, like the one on the right, have stalactites or columns under them. Others, like the one on the left, have a large overhang with no support underneath.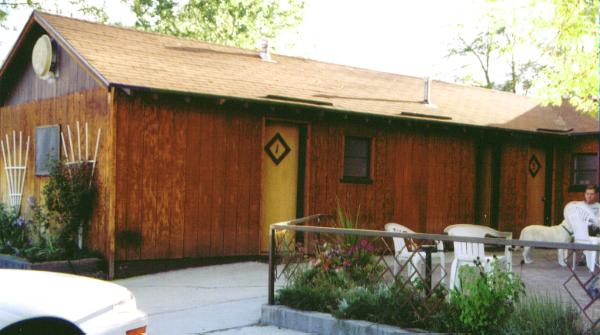 Motel space in the Great Basin NP area is very limited. We stayed one night at the Silver Jack Motel in Baker. They have four rooms. Ours was number 1. No air conditioning, TV, or telephone. Air conditioning was not needed at night. There was one restaurant, TD's, located across the street from our motel. Their food was good, at least their barbequed ribs were, but their hours were very limited. During the summer, I think there is one other motel and a second eating place open in Baker, but not after Labor Day.

Where US Highway 6 enters Utah, there is the Border Inn. They have a motel and restaurant with extended hours. We had breakfast there, and returned to Baker before TD's opened for breakfast. From the outside, their rooms appeared to be more modern than ours in Baker. The Border Inn is just a few miles from Baker and the entrance to the Grear Basin National Park.
Continue to Zion National Park.
Return to US Highway 50
Return to Our Scenic Tour of 2001.
Return to Lewie's Home Page.