Zion National Park
Zion National Park has two entrances. We decided to stop at the West entrance since it was on the way as we were driving to Las Vegas from where we spent the night in Cedar City, Utah.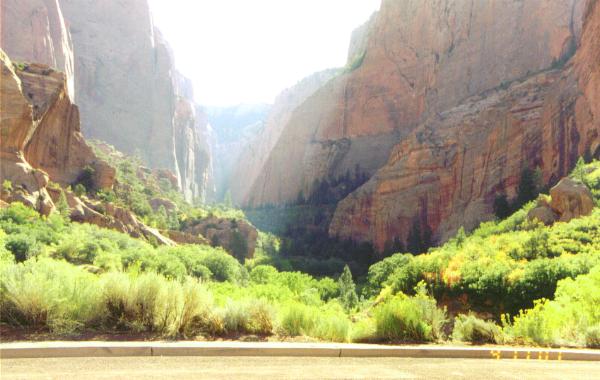 The West entrance has a visitor center and a short drive into the park. It does not connect to the larger part of the park served by the South entrance. Several canyons with beautiful rock sides are visible from the road, and from a parking area at the end of the road. It was very hazy when we were there.
| | |
| --- | --- |
| The beautiful views at the West end of the park were sufficient for us to make the short drive to the South entrance. At the South entrance, you park your auto and ride a bus to see the main canyon of the park. Personal cars are not allowed more than a short distance into the park. On the road into the park, there were several signs advising that the parking lots in the park were full, and we should park in the small town of Springdale and ride a shuttle bus into the park. We found that there was lots of available parking in the park. I decided the businesses in town wanted people to park in town so they would be more likely to spend money at the stores. | |
| | |
| --- | --- |
| | Rock climbing is a popular activity in the park. This picture of two climbers was made through the window in the top of the the bus as we passed by. |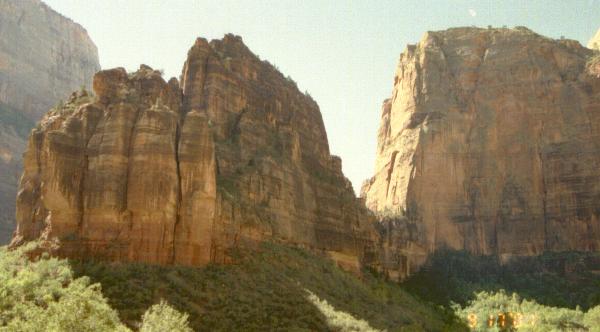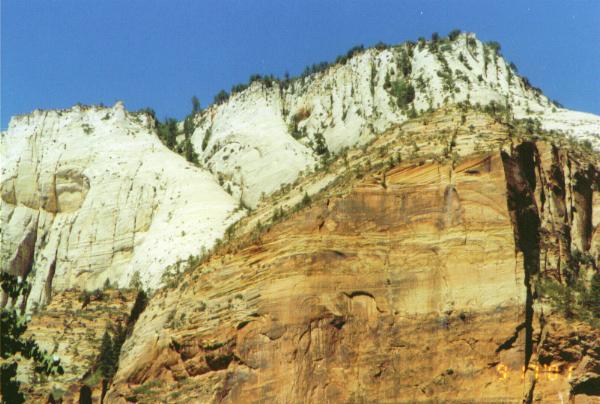 The various rock colors change a lot with the sun angle. Some rock faces are red and pink, others are shades of gold or violet, and some are white.
A very pretty white flower caught my eye in several places in the park. The blooms are about four inches across. A sign states that these are the night blooming sacred datura, common name moon lily. They are very poisonous. This bush was located just outside the rest rooms at the visitor center.
Continue to Las Vegas and area.
Return to Great Basin National Park
Return to Our Scenic Tour of 2001.
Return to Lewie's Home Page.