US 50
The Loneliest Road In America
We left Virginia City and headed East on US Highway 50. Between Fallon and Ely, Nevada, US 50 has few cross roads, towns, or even houses along the way. Most of the other roads in the region are small state roads, mostly unpaved. There are long stretches where there are no power or telephone poles within sight of the road. However, there are interesting things to see along the way. This was the route of the Pony Express mail for the short time it existed.
| | |
| --- | --- |
| About 25 miles after leaving Fallon, NV, we saw what appeared to be a mountain of sand in the distance. | |
| | |
| --- | --- |
| | When we got closer we could see there was a road to the mountain. At the road was a sign indicating that this was a Bureau of Land Management Recreation Area. The sand mountain was a mile or more off US 50. |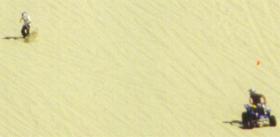 As we approached the mountain, we saw there was a large number of trailers and RV's parked in two different areas at the foot of the sand mountain. We also discovered there was a public restroom. As we got still closer, we could see there was activity on the side of the mountain. Several times we saw dune buggies attempting to climb the hill to the top. Some made it and some did not. There was also an ATV that carried a person with a board up the mountain. The board was ridden down the hill side like a snowboard. This was repeated twice more while we watched. Judging by the large number of buggies and ATV's at the base of the mountain, riding up and down the sand is very popular. There is a Pony Express Station archeological site nearby, also.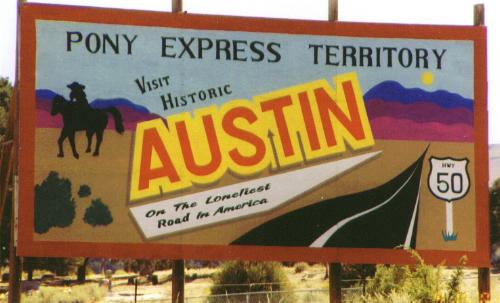 There are two small towns between Fallon and Ely. One is Eureka, and the other is Austin. Both were started as mining towns in the 19th century, silver for Austin, and lead for Eureka. We made a short stop for gas in Austin. $2.27 per gallon.


Just east of Austin, there were yellow bushes that I could not identify. That is a road or long driveway in the foreground, and small pine trees near the top.
Continue to Great Basin National Park.
Return to Virginia City.
Return to Our Scenic Tour of 2001.
Return to Lewie's Home Page.