Birds of Newfoundland
Sea birds are a major attraction for visitors to Newfoundland.
| | |
| --- | --- |
| | Atlantic Puffin can be seen in several places along the Newfoundland shores. The best place to see the puffins is from a boat. The puffins nest in borrows on islands in Witless Bay Ecological Preserve near Bay Bulls on the eastern shore of Newfoundland. |
| | Common Murres are on other islands in the preserve. Several types of gulls, many large, are also found on all the islands and coastal areas. These Puffin and Murre pictures were obtained from the Gatherall's Puffin and Whale Watch boat we boarded in Bull Bay. |
| | |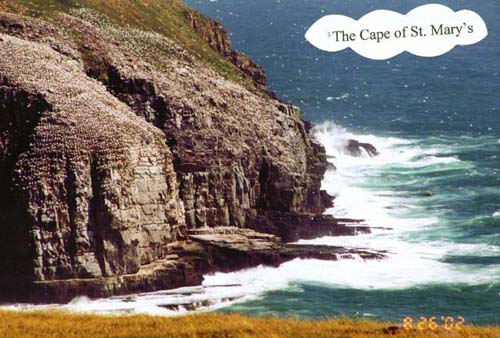 The Cape of St. Mary's Ecological Preserve has many thousands of Northern Gannets that can be viewed up close without a boat. The large rocks above, covered with birds, are separated from the mainland by a narrow gorge that makes the birds safe from land predators. A trail from the visitor center leads to a viewing area that is probably about 50 feet from the birds on the rocks. Flying gannets may be much closer. The pictures below were taken from the trail. The birds are in the same area as the extreme left in the picture above.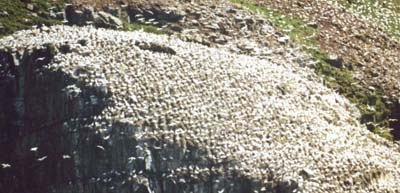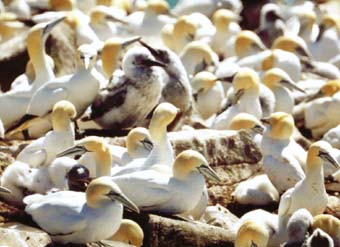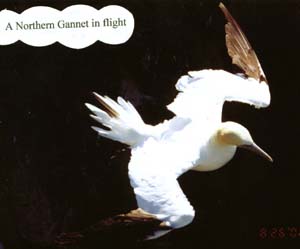 | | |
| --- | --- |
| This small bird, a White-Crowned Sparrow, was in the parking lot of the Viking Settlement visitor center. | On our boat tour to see whales and icebergs, these Black Guillemots were on a sea-side cliff near a cave. Heavy shade and a moving boat prevented my obtaining a well focused picture. |
| | |
| --- | --- |
| Osprey and nests are also found in Newfoundland. | All of these bird pictures, except the sparrow, were obtained with a 500mm Celestron mirror lens, f5.6, and Fuji 800 speed print film. All pictures are handheld. The flying Gannet was riding a strong breeze in the gorge. His slow movement allowed time to manually focus with little movement. |
Back to the Newfoundland start page. Go to Visiting Newfoundland page.
Go to Viking page. Go to Sea and Land Animals.
Go to Sights of Newfoundland.
Back to the 2002 vacation page.
Back to Lewie's Home page.