Newfoundland Sights
One of the interesting sights we saw all over Newfoundland was yard art.
| | |
| --- | --- |
| The ultimate yard art was found near the town of St. Mary. A brook through the side of the yard was made into a fishing village. Some of the detail is shown to the right. The boat with the man is less than a foot long. | |


Some of the yard art was in open areas beside the houses, and others were in the front yards. Not all was as large as those shown here, but it was scattered all over the island.

Most houses outside St. John's had some type of container for trash. Some of these were also artistic. Many were made from the round ends of cable spools. Few were simple square boxes.



| | |
| --- | --- |
| | Beautiful wooden churches are scattered through eastern Newfoundland. This is claimed to be the largest all wood church in the world. |
| | |
| --- | --- |
| The tour boat. The back is covered with clear plastic for wind and rain protection. | We had the Trout Pond boat tour in Gros Morne. It was interesting. The northern side is the Tablelands. Mostly brown with little vegetation. The right side was all lush, green vegetation. All lakes in Newfoundland are called ponds. |
We wanted to take the boat tour on Western Brook Pond in Gros Morne, but the hike to the boat landing, about one hour, was too far. We were told it had beautiful, high waterfalls.
St. John's has many places of historical interest. Signal Hill, where Cabot's Tower is located is one such place. It was here that Marconi received the first trans-Atlantic radio signal, transmitted from Ireland.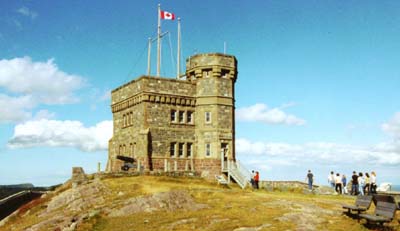 Cabot's Tower was started in 1897, in honor of the 400th anniversary of the 1497 landing of John Cabot in Newfoundland. There is a statue of him at Bonavista, the site of the landing.
If lighthouses are your interest, there are many to visit all around the island.
Just south of St. John's is Cape Spear, the eastern-most point of North America. There are two light houses there. The old one, top left, and the present day operating light. The old light is a museum now.

Above, at the time of the picture, I was farther east than anyone else on land in North America.
Back to the Newfoundland start page. Go to Visiting Newfoundland page.
Go to Viking page. Go to Sea and Land Animals.
Go to Birds of Newfoundland.
Back to the 2002 vacation page.
Back to Lewie's Home page.