Our Scenic Tour of 2001
Click on one of the links below to go directly to a report on a part of this year's trip, or
read on down and follow the links there for a more detailed description.
Unlike earlier reports about our vacation travels, this report will be a sequential narrative. Each significant stop during the trip will have a separate story that will be found by clicking on the blue underlined passage. Some stories will be told entirely on this page.
Our trip this year started with the Hershey Family Reunion in Earl Park, IN. This is an annual event that ends with the first Sunday in August.

This year 149 participants celebrated Christmas in August. Santa and elf arrived in a red hatchback and gave presents to all the children. Adults exchanged gifts.
After a night with a nephew and wife in Milwaukee, we drove to International Falls, MN, with the intention of touring the giant sized Boise Cascade Paper mill. However, their tours were not available because of changes being made to one of their production lines. They recommended we cross into Fort Frances, Canada and visit the Abitibi Paper Mill. We took their tour. Cameras are not permitted on the tour. Hard hats, hearing protection, and goggles are required. Logs are moved in at one end of the mill. Large rolls of paper are removed at the other end. Hot inside and out today, but the smell was very mild for a paper mill.
We drove west from International Falls to Baudette, MN, for the night. Walleye fishing is really big here. This is an indication of just how big.

This is Willie Walleye.
The drive west continued the next day. This was probably the only day of the trip that we took no pictures. What we saw was miles and miles of grain fields. A strong north wind caused large waves to flow across the fields. Beautiful. We also saw a lot of old, abandoned farm buildings and equipment. The night was in Williston, ND.
A short distance west of Williston is the confluence of the Yellowstone and Missouri rivers. A small park marks the area where Lewis and Clark spent the night. Just a short distance farther west is Fort Union Trading Post. The parking lot is in Montana, but the fort is in North Dakota. The fort is being reconstructed as historically accurate as possible.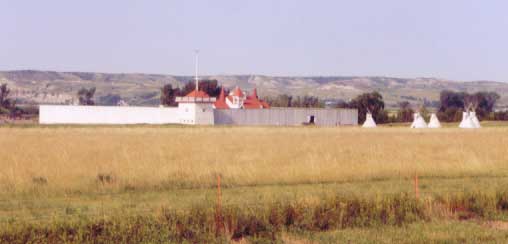 Next was a night in Havre, MT, with a tour of the Havre Underground the next morning. The Havre Underground was a large group of basement businesses connected together with tunnels in the late 1800ís. A fire in 1904 destroyed most of the above ground Havre. Several businesses rebuilt totally underground. Underground businesses included a bakery, butcher shop, bank, and a bordello. The tour is worth a visit. Cameras are allowed, but the lighting is poor, and wide angle lenses are needed. A video camera can probably document a visit to the underground better than a fixed camera.
| | |
| --- | --- |
| Next stop on our tour was East Glacier, MT, and a bus tour of Glacier National Park. Beautiful mountains, lakes, historic buildings, and mountain goats to be viewed. This a giant cedar on the Avalanche Creek trail in the park. | |
| | |
| --- | --- |
| We drove from the US Glacier National Park to Radium Hot Springs, BC, on 13 August 2001, and took a room at the Kootenay Motel. We stayed here and drove to Kootenay, Yoho, Jasper, & Banff National Parks on 14 and 15 August. Those potted flowers are real, as are hundreds of others in the town. | |
This was our second visit to a dam on the Columbia River. In 1999 we toured Grand Coulee dam in Washington State. Later this trip we toured Bonneville Dam, the dam closest to the Pacific Ocean on the Columbia. We had plans to visit the Dalles Dam also, but the events of 11 September changed our plans. The Columbia River has many streams that might be considered the origin of the river. One of these starts just west of the US Glacier NP in Montana, where we were several days ago, with the drainage to the north into Canada. The "official" start of the Columbia River is at Columbia Lake in BC. There are several dams in Canada in addition to Revelstoke. The upper stream dams are very tall and provide water conservation and hydropower generation. The lower stream dams such, as Bonneville and Dalles, are relatively short dams that provide power, but are principally for improved river navigation. They include locks and fish ladders. They are all engineering marvels.
After we visited Revelstoke Dam on the 17th, we next drove to Kamloops, passing by Shuswap Lake, and through an interesting looking town named Salmon Arm. The lake is very large and is full of houseboats. The town of Salmon Arm has large sawmills on the waterfront, with large rafts of logs floating in the lake.
Vancouver, BC, was our next stop. Vancouver was our planned departure point for the start of a Princess Alaska Cruisetour. Before leaving Vancouver, we attempted to see Stanley Park. However, the time for our visit to Stanley Park was a beautiful Sunday morning, and half of Vancouver were also at the park. Parking was almost impossible to find, with tow trucks actively removing illegally parked cars.
Our Alaska cruisetour started with a flight to Anchorage, followed by a train ride to Fairbanks with a stop over at Denali NP. From Fairbanks we had a bus ride to Prudhoe Bay with an overnight stop at Coldfoot. From Prudhoe Bay, we flew back to Anchorage, and then boarded the Sun Princess for the cruise portion of our trip. The cruise included stops at Harvard Glacier in College Fjord, Hubbard Glacier in Yakutat Bay, Skagway, Juneau, and Ketchikan before docking and off loading in Vancouver.
We left Vancouver and took the ferry to Vancouver Island where the beautiful city of Victoria is located. The highlight of this part of the trip was a visit to beautiful Butchart Gardens.
Following Vancouver Island, and a ferry ride to Port Angeles, WA, where we spent the night, we toured The Boeing Aircraft plant in Everett, WA. This is where they assemble 747 airliners in the largest building (by volume) in the world. Pictures inside the plant are not allowed. The tour is free, but check with Boeing for reservations and available times. The tour is popular with bus groups. Information can be found at http://www.boeing.com/companyoffices/aboutus/tours/.
| | |
| --- | --- |
| Next stop was Mount St. Helens National Volcanic Monument. This was our third stop at Mount St. Helens, but our first to clearly see the top of the mountain. Two previous visits had clouds at the top. This time it was clear except for a little haze. | |
On our way out of Oregon, we stopped at Petersen's Rock Garden and the Newberry National Volcanic Monument. We next had a short visit to Lake Shasta Dam, but the approach to the dam was off-limits because of the 11 September attacks. Burney Falls in McAuthur-Burney Falls State Park, the most beautiful small falls that I have seen, and Lassen Volcano National Park in California were our next visits.
Virginia City, Nevada, was next, with a trip along "The Loneliest Road in America" taking us to Great Basin National Park. Lehman Caves and Bristlecone Pines, the oldest living things on earth, are in the park.
A drive through the edge of Utah, with a stop at Zion National Park, ended in Las Vegas, NV. In Las Vegas, we drove and walked "The Strip" where the monstrous size hotels and casinos are located. We did not visit Las Vegas to gamble, but just to see the sights. We did not see any of the shows because the ones we might have liked were just too expensive. Tickets seemed to average about $100 each. There were shows for half this much, but they did not appeal to us. The Las Vegas Strip has more lights at night than any other place in the world. Everything is brightly lit.

We drove over to Hoover Dam, but tours stopped with 11 September.
On the way home from Las Vegas, we made stops at Lake Havasu City, Arizona, to see the London bridge, Walnut Canyon National Monument, Meteor Crater, the Very Large Array radio astronomy site, and Big Springs, Texas.
Return to Lewie's Home Page.